AVL Multi-Image Slide Show Computers
In the '70s and '80s, Audio Visual Laboratories (AVL) built a line of computerized multi-image slide show computers that were more or less the standard machines in use in the "A/V business" at that time. I myself made a living programming and staging shows with these from '84 to '96. Now, the multi-image slide show business is history, and all of the people who were involved in producing and staging these shows are now working with other technologies.

In recent years I have unearthed my AVL gear: My Genesis from the garage, a couple of Doves out of the attic. I found a bunch of AVL manuals in the back of my office closet. I thought it would be amusing to scan in these things and make them available for those who can appreciate them (or, incredibly, make use of them). Print them out, dust off that machine and do some real programming for a change!

AVL's Earliest Programmers



The earliest multi-image slideshow programmers built by AVL were not "computers" in the modern sense - no keyboard and screen.
They were "computerized" devices with a variety of buttons and switches that each provided a single function. These machine are "old school" even for me - mercifully a few years before my time. Just thinking about programming a show with these is mind-bending to me. If you mastered these machines, my hat is (still) off to you.


The AVL Show Pro: This machine drove as many as eight (someone correct me if I am wrong here) projectors. Instead of saving programs on floppy disc, or even on magnetic tape, this machine used a punched paper tape system! Quoting this site: "Everything was done by hand: timings with a stopwatch; code with holes; fixes with Scotch tape."



The AVL Show Pro II: Similar to the original Show Pro, but could drive nine projectors. (Again, someone please correct me or elaborate on this as needed. I could also use a better photo...)



The Show Pro and Show Pro II had punched paper tape readers only. To save or "write" a program for later use, this separate paper-punching machine was connected.

(Yes I own this thing - now all I need is a Show Pro and a few Mark IV dissolve units!)



The AVL Show Pro III: This is the first programmer that could save and load a program from magnetic tape (typically 1/4 inch reel to reel tape) - a vast improvement over punched paper tape!

Got one and need to brush up? Here's the AVL ShowPro III Multi-Image AV Computer operator's manual


The AVL Show Pro V:
The last in this line of machines.
It could drive 15 projectors.





Here is the 144 page AVL Genesis Procall-X User Guide, the programming language used by the AVL Genesis computer from the mid '80s forward.



If you have an AVL Genesis Board Set,
here is the installation guide.
Be aware that you'll need a mid-to-late-'80s-vintage PC
with an 8-bit slot!
This thing was designed to work with the computers
of it's time - a faster machine won't do.



Are you the last guy on the planet that is trying to repair an AVL Show Pro 3 or 5?
Here is the only place on the planet to find an
AVL Show Pro 3 & 5 Service Manual!
(Thanks to Harry in NYC, who sent me the pdf!)



Do you have an AVL Road Runner?

Is it complete with expander, external floppy drive and 5" monitor? I do, and am in the process of TRYING to bring it back to life. Here is the Expanded Road Runner manual, which are all the components you see here: The Road Runner itself, expander unit, floppy drive and monitor. This document also includes testing procedures to try if yours isn't running like it's 1981.
(manual courtesy of Peter K in the UK)

By the way, if yours IS working, and you've got working
road runner procall disks, please let me know!



Here is the manual for the Road Runner, used standing alone, without the expansion setup.



The AVL "Super Dove" was a later offering from AVL and can do more tricks than I can even fathom. I bought one; I have the manual; maybe I will figure it all out someday.

Here's the manual for the AVL Super Dove



The AVL Chipmunk (!?)
This is a two projector programming rig / dissolve unit, that apparently does many of the tricks of the "big" programming machines. My documentation suggests that I used this thing once for a show in Mexico 30 years ago. I surely can't recall. There isn't even a single image of one anywhere on the internet.
But here is the Chipmunk manual,
in case you've got one!



Here's the manual for Procall 5 for the Eagle II,
used with "D" Doves.
Like many earlier AVL manuals, it's an all-text affair.



Here is the manual for Procall X for the Eagle II.


November 2011 - A multi-image project!

This webpage led Renata Pedrosa, an artist in São Paulo, Brazil, to write and ask me "how to use a Dove to run a slideshow". She was building an exhibition and had in mind a 12 slide, 3 minute, looping slideshow - that would run for the 2 month duration of her event. After a bit of explaining about needing a programming device, positrak, and all the rest, I volunteered to program the show for her.

Here's how it worked: She sent me an .mp3 of the audio for her show. I built a simple program on my Genesis with 12 dissolves. I didn't have the slides, but set up a Dove and two empty projectors just to see the dissolves. I played her audio, analog, into one track of an analog/digital converter - and the output of the Genesis, looped through the Dove, into the other track (cueing the show in real time, to the audio), and captured them on my PC as a .wav file. I then emailed the file back.

She ran the file from an mp3 player, set to loop the track. One channel was audio for the speakers, the other, positrak for the Dove.
There was an appropriate pause and a HOME cue at the end of the track, to reset the two projectors. It ran great, for two months. Fun!

Here's her setup...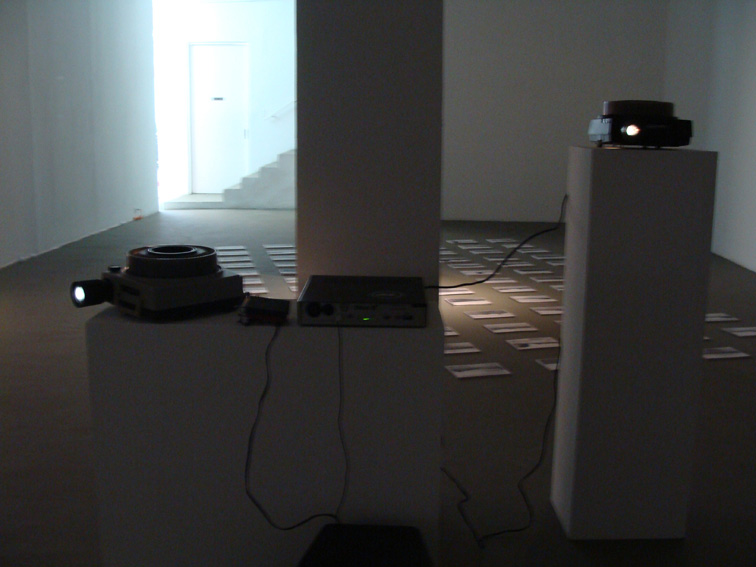 She was kind enough to include me on the wall leading into the exhibit!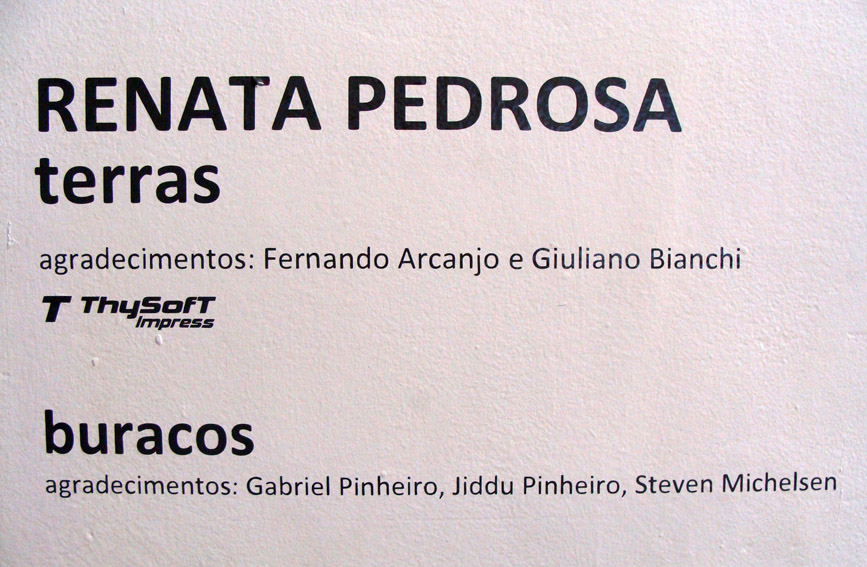 Here's an image of the exhibition, from her website.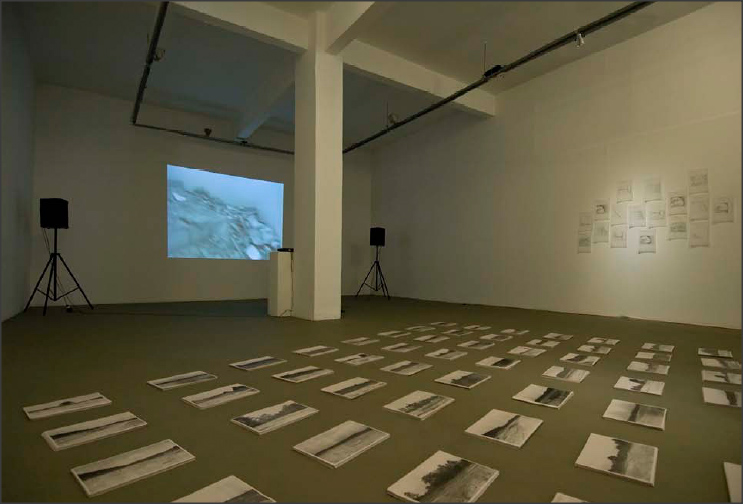 December 2011

Look what I went and bought for $10 on ebay! It's an AVL Coyote. It looks brand new, and seems to work fine. I never used one of these things on a job (I think it was kind of low-end, relatively speaking). It can program a 3 projector slideshow, can "load" or "dump" cues to and from "mag tape", has a built-in Dove, and can input and output positrak. It can't make use of clocktrac, however.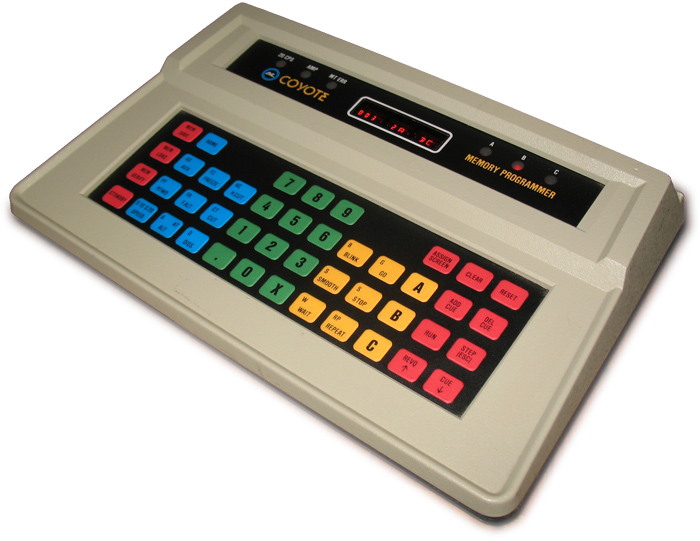 The Coyote's interface - very '80s. Here is the next cue to be executed...





Here is the manual for the AVL Coyote! I recently found one!


A Cool Souvenir: December 2014

Bill Lewis of avtools.com presented me with this very cool coin, which apparently was a giveaway at the 1979 NAVA show.
Have a look!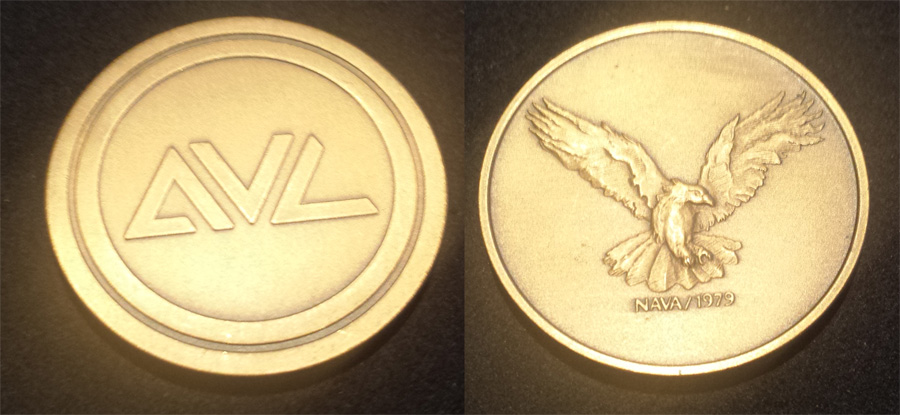 December 2014: Look what I found!

I bought a chief stacker complete with projectors, lenses, a dove, and a "Travler" cassette player. The really interesting part is not the gear, but what came with it! A 3 projector slideshow, pitching multi-image (over film and video) as a presentation medium! Of course I wasted no time to capture it and post it to youtube, shot from a"programmers view". Make this fullscreen and HD!